Hanni Schwiesow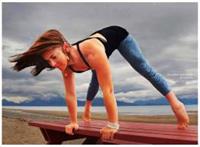 I began my yoga journey in 2006 when I moved to Lake Tahoe. My yoga experience includes Bhakti and Vinyasa Flow, Forrest, Anusara and Kripalu techniques. I enjoy incorporating aspects I have learned from each of my teachers to create a unique flow sequence. My classes combine the breath, movement and music while also creating awareness of body alignment. They will always be different and they will always be fun and challenging. Upon completion of my 300-hour yoga teacher training in Bali, Indonesia, in 2011, I began teaching Vibrant Vinyasa flow classes in my hometown of Homer, Alaska. After 2 years of teaching regular classes throughout Tahoe and Truckee I decided it was time to dive deeper into my practice and training. In 2014 I took the opportunity to travel back to Bali for Janet Stone's Advanced Immersion. This experience has opened up my awareness to the importance of yoga in our everyday lives and the power it has to offer. Get ready to sweat, laugh, have fun and challenge yourself. Every day is an adventure with new opportunities; the yoga brings it all together.
Hanni Schwiesow instructs the following:
Life's challenges makes us stronger, in body and in mind. Cultivate your own inner strength in this class by accessing your Samskaras, or habitual patternings, and grow away from these habits in order diminish that which isn't serving us. This class is accessible to all who are willing to welcome a challenge of the ego.




A dynamic vinyasa class focused on igniting your practice from the inside out. This class will always be different and challenging, inviting you to dive deeper into your journey by combining pranayama, asana, chanting and music. Sequencing is focused around sun salutations and created to build awareness, strength and flexibility. The room is warm, so plan to sweat and smile as we support each other on this journey in a safe and supportive environment.