Kate Dunn-Davenport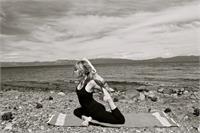 When we put our bodies in proper alignment and move from a refined space, we can truly start to heal our bodies, cultivate strength and conscious awareness. Kate, as a former Anusara-inspired RYT maintains the strong belief that incorporating Anusara-inspired alignment principles into her classes creates the best outcome. She also likes to invite a sort of playfulness and lightheartedness in hopes that students do not take themselves too seriously and the practice may even touch them deeper. As a teacher, she hopes to inspire her students to go right to the edge, right to the point where the breath begins to diminish then to draw back slightly, breathe and then soak up the sweet healing nectar of alignment in the body, the mind and the spirit. Yoga has always been a part of her life and in the last ten years, seven of which have been in Tahoe, she has been teaching yoga, studying yoga and yoga therapeutics. Come play!
Kate Dunn-Davenport instructs the following:
Day to day stress takes it's toll on our bodies and minds. Restorative classes allow you to replenish the drained parasympathetic nervous system by utilizing supportive tools such as blankets, blocks, blosters and straps. This type of passive stretching makes room for deep, meditative relaxation, leaving you feeling refreshed. Restorative yoga can have the ability to calm our mind and create space for a deep sleep. Expect a quiet and slow practice, staying in each pose for 3-5 minutes.