Kali Cathie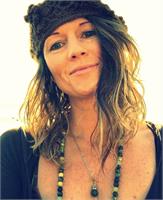 Kali Carmel Cathie is a Wanderlust certified yoga teacher with a firm background in Zen Meditation and the Tantric practices of the Hindu Goddesses. With nearly 20 years of yogic practice and more than a decade of experience as a certified and licensed Clinical Hypnotherapist behind her, her offerings empower seekers to Liberate the Wisdom of the SacredSelf and to harness the power of their own fierce grace. Her yoga classes honor the phases of the moon and provide a nurturing container that aid and support in the quietening of your mind and the opening of your Sacred Heart. Here you develop the capacity for the deep listening required to hear your Soul Speak as the Divinity that flows in, through and as YOU in precious human form. With her keen intuitive sense and a deep understanding of spiritual growth and personal development, Kali will guide you all the way to your deepest, most empowered, Sacred Self. You can also join her periodically as she facilitates various workshops and SacredSHE Moon Circles for Awakening Sacred Feminine Wisdom. For more information you can go to www.KaliCathie.com as well as www.MalaHypnotherapy.com and www.SacredHypnoGoddess.com - the latter will provide you with a free Treasure Chest of Meditations and Yoga Nidra for accessing Sacred Feminine Wisdom.
Kali Cathie instructs the following:
A pre-natal class run March thru June lead by our pregnant instructor Kali. All classes are designed to open and strengthen the body in preparation for labor and child birth. There will be very little hands on adjustments, the main goal is to hold you in a safe and supportive environment while you connect inwardly with your body and your baby and with the wisdom of pregnancy and birthing itself. No membership required. $15 drop in fee.