Tracy Desens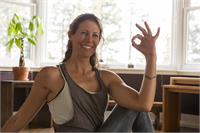 Tracy's love for yoga started 15 years ago in Southern California. She moved to Tahoe in 2000 and loves it! Tracy obtained her certification in the YogaWorks method by Lakshmi (Angie) Norwood in March 2014. YogaWorks is a combination of Iyengar, Ashtanga, and Viniyoga; basically stated, it is alignment with flow. In Tracy's classes, you can expect a level 1-2 in difficulty, breath awareness with flowing movement, use of gentle sun salutes to heat the body, an emphasis on alignment in postures, and use of props. In addition to Tracy's love for yoga, she greatly enjoys being outdoors; hiking, mountain biking, SUP, skiing, XC skiing, camping, dancing to live funky music with her husband and having fun adventures with her two young, beautiful daughters. Tracy is very grateful for the Yoga Room and its teachers for this opportunity to share, grow and align with one another, the local community and the wider community.
Tracy Desens instructs the following:
The foundation of this class is that yoga is for everyone and everyBODY. No matter your age, physical condition, or injury inclinations, this class offers a space for you. Tracy will use gentle and intentional somatic movements to increase mobility, awareness and strength. Chairs, props and ball rolling may also be integrated into this 1 hour practice for accessibility and further releasing. Come with a light heart and open mind! All levels and new students welcome!




This foundational Yoga class will guide you through the asanas (postures) in a way that is approachable to all. Whether you are a brand new student of Yoga, or have been practicing for decades, Yoga Foundations will create the groundwork for a strong and intentional Yoga practice.




Day to day stress takes it's toll on our bodies and minds. Restorative classes allow you to replenish the drained parasympathetic nervous system by utilizing supportive tools such as blankets, blocks, blosters and straps. This type of passive stretching makes room for deep, meditative relaxation, leaving you feeling refreshed. Restorative yoga can have the ability to calm our mind and create space for a deep sleep. Expect a quiet and slow practice, staying in each pose for 3-5 minutes.




This class is for beginning and intermediate students who want to start a yoga practice. We will focus on the fundamentals of yoga asana in alignment with the use of props developed by BKS Iyengar. You will learn how to move the body in asana (postures) with connection of body ,mind and breath awareness to take your practice of yoga with mindful respect for the signals and messages your body is sending you.