Tracy Desens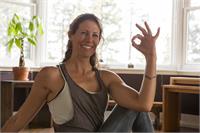 Tracy's love for yoga started 15 years ago in Southern California. She moved to Tahoe in 2000 and loves it! Tracy obtained her certification in the YogaWorks method by Lakshmi (Angie) Norwood in March 2014. YogaWorks is a combination of Iyengar, Ashtanga, and Viniyoga; basically stated, it is alignment with flow. In Tracy's classes, you can expect a level 1-2 in difficulty, breath awareness with flowing movement, use of gentle sun salutes to heat the body, an emphasis on alignment in postures, and use of props. In addition to Tracy's love for yoga, she greatly enjoys being outdoors; hiking, mountain biking, SUP, skiing, XC skiing, camping, dancing to live funky music with her husband and having fun adventures with her two young, beautiful daughters. Tracy is very grateful for the Yoga Room and its teachers for this opportunity to share, grow and align with one another, the local community and the wider community.
Tracy Desens instructs the following:
This foundational Yoga class will guide you through the asanas (postures) in a way that is approachable to all. Whether you are a brand new student of Yoga, or have been practicing for decades, Yoga Foundations will create the groundwork for a strong and intentional Yoga practice.