Brooke Butler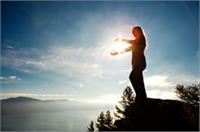 Brooke first studied Yoga in the ancient tradition and style of Kashmir Shaivism under Didier Razon in Florida and began her practice in the late 90's. This tradition teaches that the universe is pure consciousness; a full expression of the divine. She is fortunate to have practiced many yoga styles with great master teachers while guiding adventure based tours of the West. For Brooke, yoga is a way to nurture deep body awareness, promote well being, and cultivate consciousness. She enjoys teaching restorative yoga, bringing her students the understanding of the potential that yoga has to offer and holding a space to experience the benefits.
Through continuous study and practice of yoga and meditation, Brooke experienced the awakening of shakti within, which led her to the study of unseen energy systems of body and mind. She has BS in Biology, with a scientific understanding of the physical body and as a Reiki Master/Teacher, she is deeply attuned to the unseen energies of the body. Brooke is an advanced practitioner of intuitive healing/energy medicine and offers sessions on the phone or in person.
For more information about individual sessions, please visit bodytalktahoe.com.
Brooke Butler instructs the following:
Day to day stress takes it's toll on our bodies and minds. Restorative classes allow you to replenish the drained parasympathetic nervous system by utilizing supportive tools such as blankets, blocks, blosters and straps. This type of passive stretching makes room for deep, meditative relaxation, leaving you feeling refreshed. Restorative yoga can have the ability to calm our mind and create space for a deep sleep. Expect a quiet and slow practice, staying in each pose for 3-5 minutes.




Iyengar Restorative & Prananyama integrates the use of props to support the body in a restorative and mindful way. Pranayama, or intentional breath awareness, helps to create space to find depth in each pose as well as nourishes the cells. This is an all levels class. Beginners, injured bodies and pregnant women are all welcome and encouraged!